Our amazing guitar teachers will teach you how to start your journey with online guitar lessons.  All of our teachers are masters of their field and have the knowledge and experience you need to get the best from your guitar playing.
Pricing for guitar lessons:
$40 per 30 minute online lesson
How to book a lesson:
Click on the link below your chosen tutor. Fill in the form details and a member of our team will be in touch to book in your lesson day/time.
How will I be charged?
Lessons will be charged weekly. You can stop your plan at any time. We just need 48 hours notice prior to your next lesson.
Based in Sydney, Ally has worked in both performance, recording, teaching and mentoring fields offering an outstanding knowledge, guidance and understanding of the music industries multiple avenues.
Ally's skill set intertwined with his patience, calmness and discipline, make him the perfect guitar teacher for your child!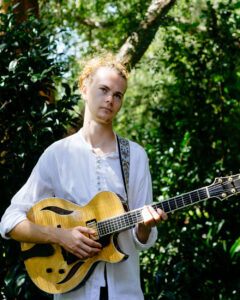 Harley Coleman is a guitarist and composer based in Sydney, Australia. Although rooted in the jazz tradition, Harley is a versatile and accomplished musician. His credits include performances and awards at international and local jazz festivals and other regular musical appearances around Sydney.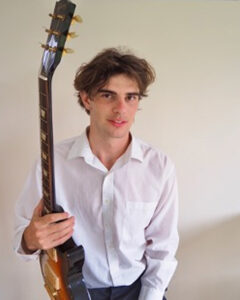 Nicholas Ruberg has completed his final year at the Sydney Conservatorium of Music, attaining a Bachelor degree of Music in Jazz Performance.  Nick has a passion for teaching. Lessons are always tailored to the individual with the intent of giving students the tools and skills that will help them reach their full potential.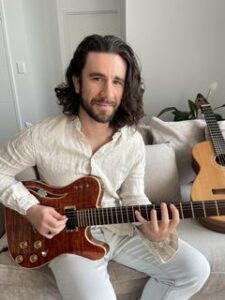 Denny is a Guitarist and Composer with over 15 years of experience as both a performer and teacher. His lessons are customised to effectively cater to students of all ages and levels, covering a wide variety of styles and techniques. Denny's lessons are fun, innovative and inspiring.
Watch an online guitar lesson!